Starting a cannabis business can be profitable if done right, but many of you don't know how much funding you need to start such an establishment in the first place.
Before we delve deeper into the subject, we ought to say that these costs can vary from state to state, as well as in concordance to the size of the marijuana-growing business you want to create.
Let's take a look at some of the factors you'll have to take into consideration when you're thinking of becoming a weed kingpin.
What Qualifies as "Start-up" Cost?
There are 8 major aspects you must pay attention to before you start doing the paperwork for your future medical marijuana company. Here's the list:
Application fees (they vary from state to state)
License (they vary, as well, from region to region)
Rental or purchasing of working space
Equipment (probably the biggest expense)
Attorney fees
Salaries (if you need employees, obviously)
Branding (if you plan on becoming a heavyweight in the industry)
Security systems
Here's the thing with these expenses: as much as you'd like to overlook any of them, it's highly recommended you don't. Sooner or later, you'll have to honor it anyway, potentially for a higher price.
Unfortunately, we cannot provide a final price that's set in stone, because there are many variables in this equation. For instance, the state of Louisiana charges a symbolic $150 for a license.
On the other hand, in New Jersey, the same licensing fee is $20k. The application alone can cost up to $5000. It's safe to assume that the upfront cost of opening a dispensary to sell your own products can go well over $100,000.
Even if you want to just grow marijuana and sell it later on, you can expect to pay thousands. Connecticut, for example, requires 25,000 dollars for the application alone.
Why Is It so Expensive to Build a Cannabis Business?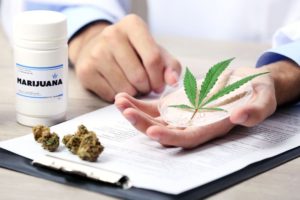 For starters, it's a new field and the price of weed itself is fluctuating like crazy. Secondly, the government is still trying to put down the cannabis fire, so to speak.
Due to the fact that start-up costs are so huge, there aren't many people who can afford to get in this business. Keep in mind that these are just the start-up costs. The maintenance fees can go over $50,000, depending on the state you're in.
Conclusion
If you thought you can get in the medical cannabis with your next paycheck, we're sorry we've burst your bubble. It's among the most expensive fields to create a company in, and you've got to have a ton of capital.
The costs will certainly decrease once marijuana dispensaries will start appearing all over the place, but that might take years. If you're patient enough, you'll be able to get in this industry with a minimal investment.
If not, you should look for people that are willing to invest in your future company and get some non-refundable capital you'll pay back in shares.