Psoriasis is an autoimmune disease that affects patients in more ways than just physical. Those suffering from it develop itchy, scaly, red patches of abnormal skin. The severity of the patches, as well as their location, varies from person to person.
But, besides these already damaging effects, the sufferers often experience psychological distress, especially when it affects the face or other visible areas.
Psoriasis is incurable. Research is being made but, so far, the best thing we can do is apply treatment to alleviate the symptoms.
There are several pills, ointments, UV ray sessions, and therapies to overcome the symptoms, but they're not guaranteed to help you, not to mention that they're either expensive or come with nasty side effects.
If you've exhausted all the conventional treatments… why not try something natural like hemp oil?
What Is Hemp?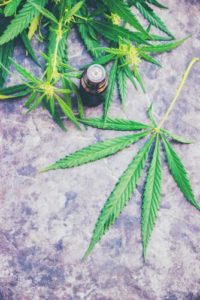 Many are immediately hesitant of hemp, given its relationship with marijuana. While both weed and hemp come from the same plant – cannabis – they're different strains, with fundamental differences.
For starters, hemp has a substantially lower THC (tetrahydrocannabinol) content – that's the key psychoactive compound of marijuana that makes you feel "high." Whereas hemp has about 1,5% THC at most, marijuana has 10%.
Second, hemp often has more CBD (cannabidiol), which is not psychoactive but suppresses THC's psychoactive properties.
Is It Legal?
Cannabis laws don't apply to hemp in most countries. You can get hemp oil legally almost everywhere, and it's used to treat numerous diseases and conditions.
In fact, older healers have used cannabis extracts from thousands of years. The recent streak of bad reputation of marijuana has plunged hemp and it's healing properties into the dark.
But Can It Help Me with Psoriasis?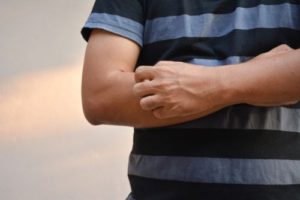 It won't cure it, but nothing we know so far can, in fact. However, hemp oil will substantially reduce its symptoms.
Psoriasis is an autoimmune disease, so its medication seeks to regulate the immune system. In other words, it suppresses it.
Cannabis, the parent flower of hemp, has immunosuppressive properties, and it's also anti-inflammatory. Psoriasis is an autoimmune disease with inflammatory complications.
Using hemp oil, either orally, or as a balm for the affected skin, will slow down the excessive growth of immature skin cells. Moreover, it will unclog your pores, leading to a healthier look.
Washing the affected skin with hemp oil will help you remove the psoriasis patches much easier than other balms.
How Can I Use It?
You can either drink it or apply it to the affected skin patches. Feel free to do both as well.
 Taking It Orally
Drink 2 tablespoons of hemp oil per day. You can drink it after waking up, immediately before or after breakfast, and before going to sleep.
Wash the patches of skin like you typically do and then apply the hemp oil. Repeat the process once every 2 or 3 days.
Conclusion
While researchers try to find a cure or better treatment, hemp oil remains among the most effective psoriasis treatments.
Bear in mind that the whole process is not completely unraveled; hemp oil has tremendously improved the condition of some and done little to nothing for others.
Nonetheless, don't turn down what might be the tonic for your problems! Read also The Ways in Which Marijuana Helps the Body.