Eat it or smoke it, cannabis is great. Hollidays are coming and here are two things you should remember: it's the time when booze flows in rivers and green is one of its representative colors.
What does that tell you? It's time to make weed vodka, obviously. Here's how to do it yourself at home.
Step-by-step Instructions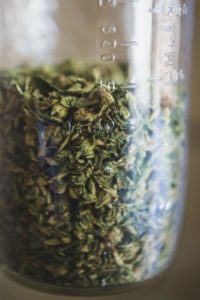 Fill half a jar with marijuana
You need a 32 OZ jar (a Ball Quart jar, for instance); get 12 OZ of cannabis in it. The quantity depends on how potent you want the end result to be. If you don't have too much tolerance to weed, you can go with less. Choose what type of weed you want to use for this goal!
Pour your vodka inside
We advise you to use Smirnoff vodka because you need a potent one to get a better taste. Again, the quantity is up to you, even though people usually go with 50% weed and 50% vodka for a genuine beverage that will make you high and drunk at the same time.
Shake the jar
The cannabis and the vodka must become best friends. You might be inclined to wonder: "Okay, is this all?" Basically yes. The weed vodka is almost prepared, but there are still a few things you'll have to do before you can drink it and start chasing the green dragon.
Store the jar and shake it daily for a month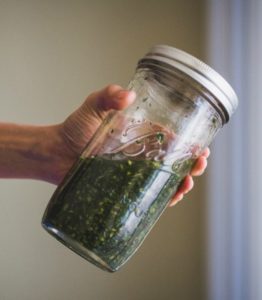 Yup, for an entire month. This way, you can rest assured you're going to get a proper stoner-vodka. Shake it once every day.
Don't worry if the booze turns purple: it's supposed to do that because the marijuana reacts with the alcohol. At the end of the month, the buds will decant on the bottom and the vodka will float atop.
Strain the vodka
Use coffee filters, because they give off the best results. You can also use a cheesecloth or even better, a cocktail strainer. You can put the beverage back in the jar you've made it in or store it in a smaller one.
Additional Info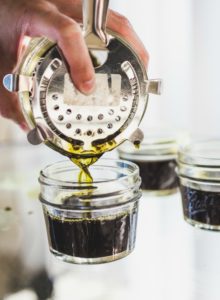 Keep in mind that weed vodka isn't regular vodka, so don't go bottoms-up on it lest you'll be high for a week. Believe it or not, 5 drops under your tongue is more than enough: it can keep you high for 7 hours or even more, depending on your tolerance.
And one more thing: don't freak out if you can't feel anything and don't go anywhere. It can take 1 hour before the cannabis kicks in. You wouldn't want to go in the kitchen, where your family is having dinner.
Final Thoughts
Marijuana smoking is cool but drinking it is cooler because it keeps you high for a much longer time with just a few drops. Consider making this if you want to party with your friends.
There are more recipes for the Green Dragon, but this is the quickest and easiest out of them all. Read also How to Make Your Own Weed 'Dabs' at Home.