Everyone loves Mexican food. That's primarily because Mexican recipes are colorful, filled with aromatic spices, and most importantly, cheese. And quesadillas are an excellent example, being some of the most versatile Mexican foods. Plus, you can fully adapt the recipe to your taste. Choose your CBD Product for starting cooking this wonderful dish!
In case you didn't try it before, you can incorporate cannabis into your quesadilla recipe, as well.
This is an excellent option, particularly if you're not keen on smoking weed; yet, you want to reap the benefits of ingesting it. Additionally, if you're a fan of quesadilla and marijuana, why shouldn't you mix the two and enjoy an unmatched degree of deliciousness? In our shop you will find many products for enjoy.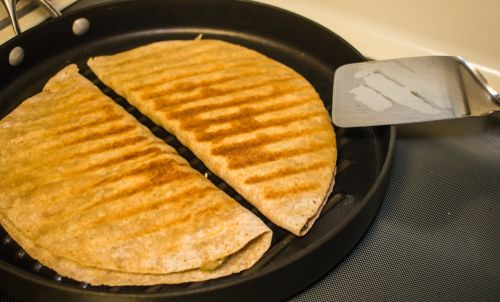 Now let's see what you'll need.
Ingredients
4 tortillas
1-cup chicken
2 tbsp. cannabis butter or hemp oil
Salt, pepper, and oregano
4 tbsp. scallions
Sweet bell peppers
1 cup of grated cheese – you can make your pick
Sour cream & salsa – if you want to go all the way
Directions
The best thing about cannabis quesadillas is that they are a breeze to cook. You should commence with heating the cannabis butter or oil in a skillet. You shouldn't leave it too much since it is prone to get burned. After chopping the sweet bell peppers, you should add them to the pan.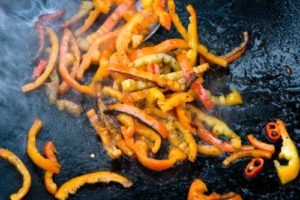 The veggies should be soft – this is the ideal texture for a flavorful taste. This might take approximately 5 minutes. Now it's time to add the chicken. Allow it to cook evenly. You should stir every now and then. After the chicken is cooked, include the chopped scallions. They will add a fresh, nice flavor to the concoction. Of course, it's time to add the condiments – salt, pepper, and oregano. If you want to make your quesadillas spicy, you should add some paprika.
Now it's time to heat the tortillas. You can add some cannabis oil or butter to the pan if it's too dry. Afterward, place the tortilla in the pan. The next step is to spread your preferred cheese – it could be mozzarella, cheddar, parmesan – you name it. You can even make a combo – we aren't going to judge.
Next, add the chicken and veggie mixture. Fold the tortillas in half, and allow them to cook until the cheese has nicely melted. Repeat the process until you've run out of ingredients!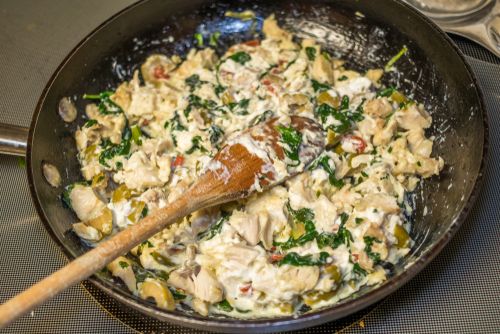 If you want, you can serve your cannabis quesadilla with salsa or cream on the side – it's up to you. You can now enjoy your meal.
As we said before, you can customize this recipe as you please. If you're a vegetarian, for instance, you can skip the chicken and add tofu instead. Another option would be substituting the chicken for shrimp. You can test various alternatives of the recipe and see which one fits your taste best.
Bottom Line
We hope that you'll try this recipe yourself. Using cannabis oil will help to get a wonderful quesadilla! A final piece of advice – don't hesitate to get creative with the use of condiments. Have you tried cooking cannabis recipes before? If you have, we'd love to hear about your favorite marijuana meals.