If you're on the lookout for an alternative to smoking weed, why not try some cookies? Few things are as tasty as biting into a warm, moist, and delicious chocolate chip cookie. But, if you're a weed user, you might be interested in adding a bit of that green!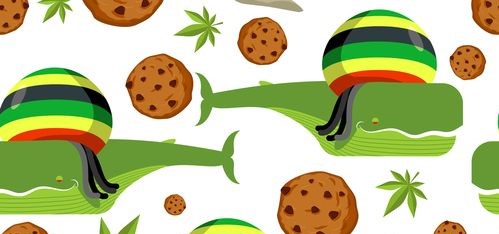 Follow this quick-and-easy recipe to bake your own Weed Chocolate Chip Cookies; it shouldn't take more than 40 minutes!
You will need to prepare some cannabis-infused butter first though. It's colloquially known as canna-butter. It can be somewhat time-consuming for beginners, but, the first batch should last for many cookies, so you don't have to do it often.
Ingredients – Canna-Butter
Unsalted butter – 1 pound
ground cannabis – 1 oz.
Water – 1 cup
Preparation – Canna-Butter
Pour water, butter, and cannabis in the bowl of a slow cooker.
Cover it, and allow the mixture to cook on low for 8 to 24 hours. Be sure to stir occasionally, don't forget that the longer the butter infuses, the stronger the final product will be.
I suggest you store the canna-butter in a glass container; this prevents plastics slipping into the hot butter. I also recommend allowing your butter to "separate" overnight, just let it refrigerate until the time you're ready to use it.
Once you have your butter ready, you're ready to prepare your cookies!
Ingredients – Weed Chocolate Chip Cookies
Flour – 2 cups
Baking soda – one teaspoon
Salt – 1 teaspoon
Canna-butter – 1 cup
White sugar – one and a half cup
Brown sugar – 1/2 cup
Vanilla extract – 1 teaspoon
Eggs – 2
Chocolate chips – 2 cups
Your desired topping – 1 cup. You could add some finely-chopped nuts, but you can also replace the chocolate chips with something else.
Preparation – Weed Chocolate Chip Cookies
Pour your canna-butter into a mixing bowl. Mix the salt, baking soda and flour in another, small, bowl.
Add white sugar and vanilla to the canna-butter bowl and mix well. Add one egg, beat until mixed, add the other, and repeat.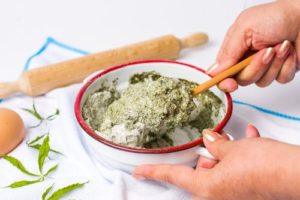 Mix slowly as your pour the flour mixture in.
Once mixed, stir in the chocolate chips (and nuts or the additional topping you picked). You might want to add a bit of water if the dough mix is too dry or hard. Ideally, it should be slightly sticky.
Split the dough into five or six small balls, grease a baking sheet, and line them up. Preheat your oven to 375F (190C).
Place the tray into the oven, and bake for 10 to 12 minutes. They should look golden brown by the time they're ready.
Let your cookies cool, and you're set!
Conclusion
This recipe is easy to follow, even for absolute beginners!
Digesting marijuana is nowhere near as effective as vaporizing or smoking. You should feel some of the weed effects within an hour or two after the ingestion.
Don't forget that the potency of the effects, as well as their nature, depends on what kind of cannabis you used. If you have medical marijuana, use some of that for your cookies! Also you can read How to Make Hash Space Cakes.