Each year, weed enthusiasts from the Boston area go to the Cannabis Convention, one of the oldest gatherings of this kind in North-East U.S. The convention was first held in 2014, and the trend has kept on going until now.
This year, the convention will start on the 24th of March and will end one day later. The workshops within the pre-convention will be held on the 23rd of March in Boston, Massachusetts.
What Happens Boston Cannabis Convention?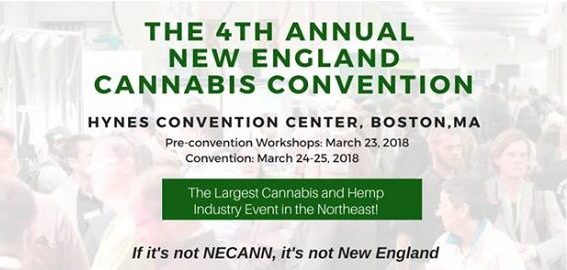 Like any other convention centered on marijuana, the Boston Convention – or New England Cannabis Convention, as it's also known – features professionals in this field, owners of weed dispensaries, suppliers, and uncountable brands.
To give you an idea of the scope of the Convention, it was attended by more than 6.000 persons, over 100 speakers and close to 150 exhibitors in 2017. This year, those numbers are expected to go even higher.
Conventions like this one are not meant only for professionals, but for start-up businesses and people who want to join the industry, too. Attendees will be able to listen to keynote speakers (which are people with a lot of experience) and attend various discussion panels that will enhance their knowledge on marijuana growing and medical cannabis. You can also get an education about marijuana on your own using Marijuana E-Learning Community.
Being in the cannabis industry is no easy thing since the government is cracking down on the legislation. If you're interested in putting together a business, you can be convinced that you can't do it on your own.
You'll need professional advice from people who have been in this business for years. If you're in the Boston area, then you cannot miss out on this convention.
What's In It for Businessmen and Women?
If you already own a company in the medical weed sector, there is a variety of reasons why the Boston Cannabis Convention is naturally the place where you need to be: the convention will feature exhibitions with new cannabis growing technologies, lighting solutions, HVAC products and many other things that are of tremendous interest for growers.
The convention will be structured on 4 distinct directions of study:
Medical weed
Business and investment opportunities
Career opportunities and jobs
Live exhibitions on making various cannabis products
To put it like this, the convention will cover pretty much all the major topics affiliated with weed growing, so you can rest assured that nothing will be left out.
Conclusion
Medical marijuana has generated tens of millions of dollars in revenue in just a few years. It's safe to say that, in spite of the pace at which states regulate it, this industry will explode in 2, 3 years.
If you're interested in becoming a weed businessman or simply want to learn as many things as possible about cannabis, you should consider attending the Boston Cannabis Convention. It's got something for everybody. Read also How to Start Your Own Medical Marijuana Business.
You can find more info, as well as apply to exhibit your products, on the official NECANN website.